Our Approach
Woody's Express Car Wash was built exclusively for our clientele with maximum convenience and satisfaction in mind. No other wash in the greater Cincinnati area will provide you with more wash selections, convenience or more payment options. Cash, all major credit cards or your Woody's Discount WashCard can be used in the following:
The Exterior Express tunnel
24 Hour Touch Free Wash Bay
All 3 Self Serve Bays (24 hours)
All Vacuums (24 hours)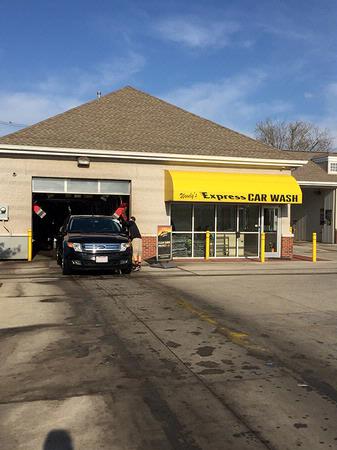 What Our Customers Say:
"Woody's is best in town! The staff is awesome,always willing to assist in any way. The lot is always clean and professional."
Woody's caters to customers on the go with our foam and soft cloth express tunnel, automatic touch free rollover bay, and 3 self service bays for the car loving do-it-yourselfers. Enjoy our well-lit and clean facility while you are a guest at our wash. Take advantage of the many promotions and discounts available to our regular customers by checking out the value of buying a Woody's WashCard today! Add up the savings when you buy your own WashCard. Discount cards can be purchased in the vending area, on line at www.woodyswash.com or by stopping into our store during normal business hours. Woody's WashCards are also a perfect gift to give to that special someone for:
Mother's Day
Father's Day
Christmas
Birthday
Valentines Day
Sweetest Day
Graduation or any other special occassion
For our credit card customers, we accept the following throughout the wash.

Wash Hours:
The touch free wash bay and self serve bays will be open 24/7 for your convenience.
The tunnel will be open during regular business hours.
8:00 AM - 8:00 PM Monday - Saturday  (8-7 Winter hours)
9:00 AM - 5:00 PM on Sundays
CLOSED ON:
Easter Day
Thanksgiving Day
Christmas Day
New Years Day